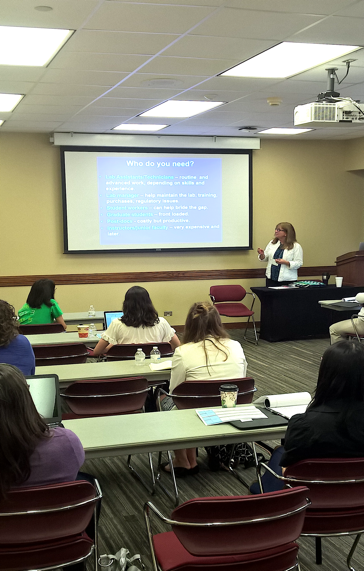 These are paid 3 to 5-week programs (plus an extra unpaid week for professional development and curriculum dissemination) organized for classroom teachers to develop authentic, research-inspired educational modules that translate cutting edge science into classroom lessons and activities. Teachers from participating schools are selected through an application process and they work collaboratively with Texas A&M University (TAMU) faculty members in colleges of engineering, medicine, biomedical sciences and public health. Selected teachers will spend the first week at College Station, Texas in STEM laboratories with TAMU researchers and also interact with faculty members to share ideas on how to build a lesson module based on the current research. The remaining weeks will be spent at their home schools where they will meet as a team periodically and continue to develop their lesson modules and interact with TAMU faculty virtually. The selected teachers are expected to attend and participate in the K-12 Summer Institute (SI) professional development conference as part of their fellowship program each summer. The Institute is held the week following the research programs. Teachers are not paid for the week of the Summer Institute but they attend the conference free of charge with hotel accommodation, all training resources and two meals per day provided at no cost. See www.k12summerinstitute.org for more information. 
 There are 2 summer research program opportunities available to teachers:
The Summer Educator Fellowship (SEF) program focuses on STEM module development. It is a 4-week program (3 weeks + SI).  

The Research Education for Teachers (RET) program focuses solely on engineering module development, including biomedical engineering. It is a 6-week program (5 weeks + SI).
The summer research programs are organized in a way that encourages a collaboration between the teachers and faculty such that allows the teachers to bring their knowledge about required education standards, sequence of topics required by school district, pedagogical approaches that have been most successful with their students and concepts most students struggle with. The faculty bring an extensive knowledge of "real world" laboratory techniques and analytical skills to be used in the development of the new modules and hands-on-activities that align with the projects themes and goals. This collaboration will ensure that the new modules meet the educational needs of the students and are designed with the consideration of practical classroom realities.
2018 Summer Research Programs
Applications now OPEN!!
Application Deadline: March 16, 2018.
2018 SEF Program (4 weeks total): June 25 - July 19 + 1 week, July 23-27 at K-12 Summer Institute. 
Teachers in this program will work closely with faculty at Texas A&M University in colleges/schools of: Medicine, Engineering, Education and Human Development, Veterinary Medicine and Public Health, to develop science and health-related educational modules.


2018 RET Program (6 weeks total): June 25 - July 19 + 1 week, July 23-27 at K-12 Summer Institute + 2 weeks spread across the rest of the year.
Teachers in these programs will work closely with faculty at Texas A&M University in colleges/schools of Engineering including Biomedical Engineering, Computer Science and Technology to develop engineering and technology-based educational modules.


2018 Program Timelines
The first week of both programs will be held on-site at Texas A&M University with paid housing + an additional $100.00 stipend for groceries (6/25/18 – 6/29/18).

There will be a July 4th break from Monday, July 2nd through Thursday, July 5th.

The two weeks following will be held at home schools in Mercedes, TX, and will focus on continuing module development through interactions with TAMU faculty (7/6/18 – 7/19/18).

The fourth week will consist of the 2018 K-12 Environmental Health Sciences Summer Institute held in Kerrville, TX (7/23/18 – 7/27/18).

Please see link for additional information http://k12summerinstitute.org.
For teachers in the RET program, there will be an additional two weeks (following the Summer Institute) spread across the rest of the year for follow up on the lesson module development.
A stipend of $500/week (excluding SI week) will be provided to each participant in each of the programs i.e. a total of $1,500 for SEF, and $2,500 for RET.